Exotic condiments
Albert Ménès offers a range of exotic condiments with some exclusive recipes, from the lightly spicy with our curry paste to the very sweet with our sweet fig chutney.

A large number of our products are sourced from organic farming, and do not contain any artificial colourings or preservatives.

A great alternative to traditional spices, these condiments will elevate the flavour of your dishes. 
Our condiments can be used in a great variety of ways. Our Whole Beldi Lemons are only found in Morocco and are harvested only once per year. This is a highly sought-after product of exceptional quality that will make for an amazing addition to your hot dishes, salads and soups. A touch of exoticism to sweep you away to faraway lands.

Our Curry Paste with Ginger is a recipe exclusively found at Albert Ménès. Flavoured with ginger, it adds great depth of flavour to your recipes. It also makes for an original ingredient in a vinaigrette to add to salads, cold white meat or prawns. A great alternative to mustard for an even bigger kick of flavour.

With a delicate taste of balsamic vinegar and caramel, black garlic transports you to Japan. This black garlic has been produced according to authentic Japanese tradition. It is said to have the fifth flavour of the four basic flavours of sweet, salty, sour and bitter. This certified organic Black Garlic Paste goes perfectly with high-quality fish. 

Our Pickled Vegetables are made using a recipe from La Réunion. Fresh vegetables (cabbage, carrot, cauliflower, green beans) are cooked to perfection to maintain their crunchy texture. This blend of small vegetables can be added to meat dishes or used in salads.

There is something for everyone, with very fragrant recipes such as our Preserved Lemons with Ginger, spicy flavours such as our Harissa with Smoked Provençal Chilli, or simply the perfect condiments for your sweet and savoury dishes.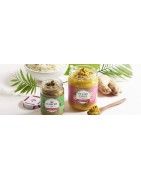 Naturally-sourced spices, processed and packaged in our French kitchens
We favour products with no artificial colours or preservatives
Origin and quality control
Deli products, grown and produced by small producer and small to medium sized companies on a human scale
A range inspired by the world of gastronomy regularly updated with new recipes