Savoury Biscuits
Albert Ménès has come up with a rich variety of flavours for our original savoury biscuits range. Each recipe has its own unique appeal, from the peppery taste of our sablés to the size of our bretzels or the traditional recipe of our Lucerne Obole biscuit. Presented in elegant little boxes, these biscuits are the perfect accompaniment to pre-dinner drinks, blending simplicity and sophistication.
Our biscuits are made with carefully selected ingredients chosen by our experts. Thanks to our wide selection, our savoury biscuits are the perfect way to add a burst of flavour to your pre-dinner nibbles.
Our Lucerne Obole biscuits with Caraway Seeds are fine, crispy biscuits with a slightly aniseed flavour. The caraway seeds add an authentic touch to these biscuits. Taken from a traditional recipe, Lucerne Obole biscuits are perfect with a Morel mushroom or lime cream.
Our savoury biscuit range also includes another favourite, Sablés with Ewe Cheese and Espelette Pepper. With their daring mix of ewe cheese and pepper, these biscuits are a guaranteed hit and are a great addition to your pre-dinner nibbles. Made using traditional methods in the Basque Country, these biscuits are made with 100% French ingredients. 
Unleavened bread is the oldest type of bread in the world. Albert Ménès has worked for over 90 years with a bakery that still follows the traditional recipe for this delightful treat. These crackers are perfect for dipping in your favourite spreads. 
Originally from Alsace, Bretzels have an authentic flavour and perfect crunch. With their salty taste, these pretzels are a universal favourite. A traditional savoury biscuit that is crunchy, indulgent and delicious!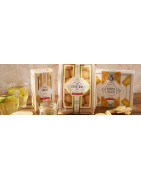 Naturally-sourced spices, processed and packaged in our French kitchens
We favour products with no artificial colours or preservatives
Origin and quality control
Deli products, grown and produced by small producer and small to medium sized companies on a human scale
A range inspired by the world of gastronomy regularly updated with new recipes