Honeys
The House of Albert Ménès offers a range of honeys in a variety of textures and flavours: liquid, creamy or comb, you're sure to find something you'll like. The origin of our products is a key criteria for Albert Ménès: we work, for example, with producers in Provence for our Lavender Honey or in Auvergne for our Mountain Honey. All our honeys are sourced from producers respecting environmentally-friendly practices. 
Our Auvergne Mountain Honey is a very fragrant flower honey with a delicate flavour. It adds a touch of menthol and amber-scented notes when spread on toast, crepes or even eaten by the spoonful! It is worth noting that this honey is protected by a designation regulated by the Ministry of Agriculture.

Another honey with a completely different texture is our Creamy French Honey. Albert Ménès has selected several French meadow flower varieties to create this sweet and fragrant honey. This natural product will be a favourite with honey fans with its warm colour, smooth texture and floral aroma. Our Creamy French Honey is an authentic product that stands out for its exceptional quality.

Lavender Honey from Provence is becoming an increasingly rare product. Its clear colour, slightly milky texture and its floral taste make for an exceptional honey. Produced using traditional methods, it has a Protected Geographical Indication: it is from Provence in the southwest of France.

For an original gift, the Golden Latte kit combines 3 Albert Ménès products. You can use it to create your own Golden Latte.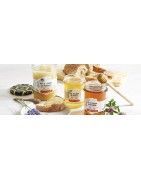 Naturally-sourced spices, processed and packaged in our French kitchens
We favour products with no artificial colours or preservatives
Origin and quality control
Deli products, grown and produced by small producer and small to medium sized companies on a human scale
A range inspired by the world of gastronomy regularly updated with new recipes