Gift Sets
The house of Albert Ménès offers a large range of gift sets containing amazing treats, quality products, and local specialities.
Take your pick from our selection offering the gastronomic and the delicious, the festive and the fun. With exceptional gift sets at affordable prices, we offer you the best of our fine deli products! 
All our gift sets are made up of authentic local products from France and Europe. Our selection of spices and fine deli products are showcased in our beautiful Albert Ménès boxes. For extra special occasions, some of our gift sets include a bottle of wine or champagne. A moment to savour as a couple or with friends.
With our affordable range, you can find spice sets including French, Asian or "detox" spices. If you can't go without your afternoon sweet treat, you'll love our Winter Treats Gift Set.
Our Albert Ménès Staples Gift Set includes a variety of exceptional products and house specialities: Lucerne Obole biscuits, French honey, Petit Chablis white wine, and much more. 
If you're looking to buy someone a gift, our Festive Treats or Champagne and Foie Gras Gift Sets are the perfect way to spoil that special someone. Be transported to Italy with our Italian Aperitivo Gift Set: prosecco, Gaeta olives, artichoke cream and Italian ciappa crackers, offering you the perfect blend of crunchy and smooth. 
Whether you're looking for sweet or savoury, our Albert Ménès gift sets offer a smorgasbord of delicate and refined flavours. Mirabelle jam, Sablés with Ewe Cheese and Espelette Pepper, Breton Galettes and Salted Caramel Spread: we bring them all together in our Temptation Gift Set.
Our gift sets and gourmet hampers are a sure way to any Epicurean's heart, with something to suit every taste. Discover new flavours, sample new cuisines, treat yourself: our teams at Albert Ménès work hard to offer you nothing but the best in our gift sets.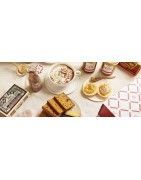 Subcategories
Naturally-sourced spices, processed and packaged in our French kitchens
We favour products with no artificial colours or preservatives
Origin and quality control
Deli products, grown and produced by small producer and small to medium sized companies on a human scale
A range inspired by the world of gastronomy regularly updated with new recipes