Sweet Biscuits
Discover our range of Albert Ménès sweet biscuits, the perfect addition to your sweet snack breaks. Our food experts always work hard to provide you with quality products, produced according to traditional, sometimes century-old methods.
From Brittany to Provence, our ingredients have been selected from our producers across the country, offering you the best of each region. The addition of apples macerated in Calvados make our Normandy cake delightfully soft and indulgent. 
Our range of Albert Ménès biscuits includes a variety of sweet treats in different shapes and flavours. Our Pure Honey Gingerbread is pure, unadulterated pleasure. This recipe exclusively created for Albert Ménès is made using traditional processes, guaranteeing a delicious product. The unique feature of this recipe is that it uses only honey as a sweetener, which is why it is described as "pure honey". 
If you like candied fruit, then you'll love our Pure Butter Cake with Candied Fruit. With more than 39% fruit (raisins, Amarena cherries, citron and candied orange peel), this soft cake deserves pride of place on your table for a delicious afternoon snack.  
In their little vintage box, these Dark Chocolate Petit-Beurre Biscuits promise a trip down memory lane that will be sure to go down a treat. These little biscuits are made in Brittany by dedicated food experts. With this dark chocolate version, our Lorient Petit-Beurre Biscuits are perfect for sharing as an afternoon snack. 
Our Palets Solognot biscuits are pure butter, lightly golden biscuits dotted with raisins. Originally from the centre of France, the recipe is fairly modern, only dating back to the 20th century. With raisins macerated in Caribbean rum, these biscuits are delightfully soft and perfect with a cup of tea or coffee. 
As an afternoon snack, breakfast or dessert, all our Albert Ménès biscuits are made with no artificial colours or additives. Traditional biscuits from all over France for all kinds of sweet tooth, young and old alike!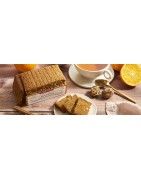 Naturally-sourced spices, processed and packaged in our French kitchens
We favour products with no artificial colours or preservatives
Origin and quality control
Deli products, grown and produced by small producer and small to medium sized companies on a human scale
A range inspired by the world of gastronomy regularly updated with new recipes