Marmalades
Albert Ménès has come up with exclusive marmalade recipes to complete your breakfasts, prepared using traditional methods. Their blend of different textures, mixing fruit jelly and fruit peel, gives an extra burst of flavour to taste and to spread.
Albert Ménès has come up with an exclusive range of marmalades, perfect with toast. Our marmalades are made using traditional methods, with carefully selected fruit. The quality of our products at the house of Albert Ménès shines through our original and flavourful recipes. The mix of textures blending jelly and fruit peel gives you an even bigger burst of flavour.

Albert Ménès has come up with indulgent recipes using fresh, carefully harvested fruit. Our jam-makers work hard to offer you marmalades with an intense and exquisite taste: the combination of orange peel and pulp makes this Bitter Orange Marmalade a must-try from the Albert Ménès range.

Albert Ménès is well known for its finely crafted marmalades. Our exclusive recipes and the traditional know-how of our master jam-makers guarantee you a delicious product. Orange and lemon are two fruits that go together very well. Albert Ménès has come up with a recipe that will blow you away: with thin slices of fruit peel, you can enjoy an even more intense flavour, combining bitterness and acidity.

If you love the texture of real fruit, our Sweet Sliced Orange Marmalade is for you. The oranges are carefully prepared. After being slow-cooked, the thin slices of sweet orange are delicately placed in their transparent glass jars. A delicious concoction to savour, for a moment of pure joy. With this sliced version, the little pieces of oranges in jelly give this marmalade a very fragrant flavour. A deliciously moreish treat!

Albert Ménès Sliced Clementine Marmelade is made with French clementines harvested at their ripest. Clementines are a fruit enjoyed by young and old alike!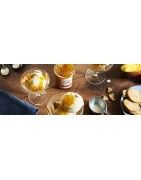 Naturally-sourced spices, processed and packaged in our French kitchens
We favour products with no artificial colours or preservatives
Origin and quality control
Deli products, grown and produced by small producer and small to medium sized companies on a human scale
A range inspired by the world of gastronomy regularly updated with new recipes