All Spices
Albert Ménès offers you a rich and diverse collection of exceptional spices, in the aim of providing you with the best possible quality. Our glass jars showcase the different colours of our spices, which are bottled in our French kitchens. With a little something for everyone, our spices will enhance your recipes and add a touch of flavour, elegance and intensity. 
Our selection: from all the spices we offer, our Curry Powder, Ginger, Persaillotte and Espelette Pepper are all essential products to have in your kitchen. They will delight your guests by adding that extra boost of flavour and intensity to your recipes. We have carefully come up with some unique, tasty and clever blends. Our spices are 100% natural with no additives or artificial colours.

Production: our spices and aromatic herbs are processed in our kitchens in France. Our passionate teams put a great deal of care and skill into offering you the best herbs and spices. Attractiveness, colour, shape and aroma are all essential criteria for guaranteeing high quality herbs and spices. Some are sorted a second time by hand (cinnamon sticks, bay leaf, nutmeg) and packaged in beautiful glass jars. The most sensitive spices are heat-treated to reduce bacterial flora as much as possible.

Tradition: the tradition behind the products we use and their quality are essential factors in providing you with authentic spices with quality flavours. For many years, we have maintained close relationships with our producers and suppliers.

Quality: we carry out inspections for every batch arrival. We demand constant, impeccable quality. At Albert Ménès we abide by our own strict set of specifications. Sourcing has been managed by the same expert for over 30 years.

The House of Albert Ménès offers a wide array of premium spices offering incredible flavours and an unbeatable quality.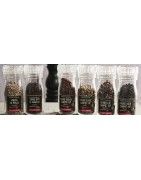 Naturally-sourced spices, processed and packaged in our French kitchens
We favour products with no artificial colours or preservatives
Origin and quality control
Deli products, grown and produced by small producer and small to medium sized companies on a human scale
A range inspired by the world of gastronomy regularly updated with new recipes