Spreads and Olives
Our range of Albert Ménès spreads is guaranteed to get you licking your lips. From our Goat's Cheese and Beetroot spread to our Pepper Delight, their rich colour makes for a very inviting treat.

Directly inspired from contemporary cuisine, our seafood or vegetable recipes are a delicious and easy-to-prepare option for pre-dinner nibbles.
These little glass jars contain a variety of delicious and subtle ingredients. Our experts choose only the best and highest quality fruit and vegetables from our local producers:

Yuzu: this citrus fruit is a favourite of top chefs and has wonderful health benefits. Anti-inflammatory and antioxidant, yuzu is an exciting and original product to use in cooking. Albert Ménès offers you Yuzu and Sea Bass Rillettes, a perfect pairing of the delicate texture of fish and the fresh taste of yuzu.

Dried Tomato Cream: this delicate and creamy recipe has been made without any artificial preservatives, colours or flavouring. Organic tomatoes are carefully selected for their intense flavour and delicate flesh. They are dried, preserved in oil, made into a paste then slow cooked: this process helps to lock in all their natural flavour and aroma.

Olives: tapenade is a match made in heaven for pre-dinner drinks and snacks. The olives are picked by hand, guaranteeing an exceptional quality. Made in Provence, this tapenade recipe is 100% natural, with no artificial colours or preservatives. A recipe packed with the flavours of the Mediterranean!

Artichoke : as a cream or as tender artichoke hearts, this product, sourced by our experts in Italy, is the best way to liven up your amuse-bouches with an intense, full flavour.

Our vegetarian and fish spreads can be used in endless ways. Spread onto bread, with crunchy vegetables or as a dip with our delicious crackers and savoury biscuits: it's up to you! With our indulgent, creamy flavours, Albert Ménès has pre-dinner nibbles sorted.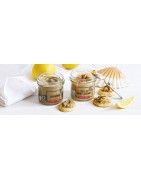 Naturally-sourced spices, processed and packaged in our French kitchens
We favour products with no artificial colours or preservatives
Origin and quality control
Deli products, grown and produced by small producer and small to medium sized companies on a human scale
A range inspired by the world of gastronomy regularly updated with new recipes