Vegetable Condiments
With our wide range of small vegetable preserves, Albert Ménès is constantly coming up with new and exotic condiments and recipes for you to try. Wild cranberries, whole chestnuts, and baby corn are just a few examples of the delicious, quality fruit and vegetables we offer. Our products stand out for their rich flavour and are elegantly preserved in our glass jars.
When it comes to choosing our range of vegetable preserves, quality of flavour is our top priority. 
Albert Ménès offers a variety of capers ranging from 5 to 7mm in diameter. Their supreme quality has earned them the "non-pareil" label. The larger types of capers are categorised as "surfine" and "capucine" capers. These are considered to be the best and have an incredible aroma.
Dried Tomatoes: hand-picked by our experts for their flesh and aroma. Grown in Italy, these tomatoes are preserved in oil, basil and oregano. A subtle blend that will work wonderfully with chickpeas and spinach in a salad or with artichoke cream in a sandwich.
Garlic Cloves in Fine Herbs : exclusively at Albert Ménès! Our garlic cloves are processed without artificial colouring or preservatives, guaranteeing a natural and delicious product. Seasoned with thyme, oregano and tarragon, our sweet garlic will liven up your meat terrines, charcuterie boards and raclettes with its delicate flavour. 
Roman Style Artichoke Hearts: this 100% Italian vegetable condiment is an exceptional product. Selected, prepared and bottled by hand, our artichoke hearts are an essential addition to your antipasti.  Our Roman Style Artichoke Hearts are made with a clever blend of extra-virgin olive oil, garlic, chilli and mentuccia.   
Our vegetables preserved in vinegar and oil can offer you a great number of cooking possibilities. At Albert Ménès, we only use our favourite recipes, accessible to everyone.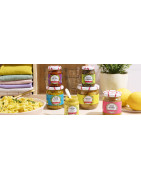 Naturally-sourced spices, processed and packaged in our French kitchens
We favour products with no artificial colours or preservatives
Origin and quality control
Deli products, grown and produced by small producer and small to medium sized companies on a human scale
A range inspired by the world of gastronomy regularly updated with new recipes