Peppercorns and Berries
Nothing like peppers and berries to take your taste buds on a trip. These spices have been carefully selected for their flavour quality and taste, our number one priority at Albert Ménès.

Our products can be distinguished by their unique aromas as well as by their native lands, from the Kampot pepper of Cambodia to the Belém pepper of Brazil.
Albert Ménès offers two ranges when it comes to pepper: our "everyday" peppers and our "exceptional" peppers.
When we think of the most common ingredients used in our recipes, cracked black pepper immediately comes to mind. The peppercorns are selected by hand then coarsely ground, bringing out all their natural flavours.
Both our black peppercorns and ground black pepper are of Brazilian origin. The peppercorns are carefully picked then dried out in the sun until obtaining their final colour, black. Packing a powerful punch, with a lightly spicy yet pleasant flavour, our peppers are the perfect addition to your daily recipes.
Part of our range of exceptional peppers our wild Voatsiperify pepper is a unique product with a surprising and highly aromatic flavour. Sourced in the forests of Madagascar, this delicious and fragrant wild pepper has a subtle mix of woody and sweet notes. This pepper is also well loved by chefs and fine connoisseurs for its citrus and exotic fruit flavours. Wild Voatsiperifery pepper makes for a perfect addition to your chocolate recipes.
Considered to be one of the finest peppers in the world, Kampot pepper has earned the PGI label (Protected Geographical Indication). This remarkable pepper is farmed sustainably in Cambodia by small producers. At Albert Ménès, we pay homage to this rich tradition in our recipes. For example, our three peppercorn blend offers an exceptional aroma and an explosion of flavour. With its fruity and slightly menthol notes, this exceptional pepper will surprise your palate and elevate your dishes.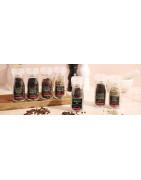 Naturally-sourced spices, processed and packaged in our French kitchens
We favour products with no artificial colours or preservatives
Origin and quality control
Deli products, grown and produced by small producer and small to medium sized companies on a human scale
A range inspired by the world of gastronomy regularly updated with new recipes