Seafood
The Albert Ménès Seafood collection is presented in attractive tins with a cute vintage design.

Our sardines, tuna, Brisling sardines and cod livers are all carefully produced in our sardine cannery in Brittany to give you the best possible flavour. With some of our recipes, we also enhance the flavour with the intensely fruity taste of extra virgin olive oil. 
Albert Ménès also offers a range of vintage sardines. These boxes are an Albert Ménès exclusive, with each batch produced and numbered every year. Our sardines stand out for their excellent flavour and are carefully selected for their supreme quality. Sardines are fished in the Atlantic Ocean at the end of the season and then carefully processed: they are gutted, headed and cleaned by hand. They are then dried upright and quickly deep fried before the excess oil is removed.

Sardine is an oily fish which is excellent for your health. High in omega-3, this quality product is an essential part of our diet. These Boneless Sardines are preserved in organic olive oil.

The sardines are processed and canned at our sardine cannery in Brittany, which has almost 100 years of history, contributing to its talent and skill.

Sourced in Iceland, our Albert Ménès Cod Livers are prepared using the traditional method of smoking them over beechwood. Also a rich source of omega-3, they make for a delicious started served on little pieces of toast, as hors d'oeuvres or with a green bean salad.

Albacore tuna, also called white tuna because of its light pink colour, is renowned for its quality. The supreme quality and flavour of this fish make it an exceptional product. It can be consumed cold in a salad or hot in a quiche, in brick pastries or with a sauce.

Another vintage fish offered by Albert Ménès is our Brisling Sardines Smoked over Beechwood. They are prepared and then canned by hand. A product with a unique flavour that can be enjoyed alongside pre-dinner drinks on a slice of rustic bread. They can be enjoyed all year round as a pre-dinner snack or added to dishes.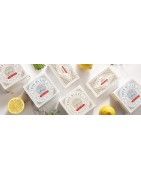 Naturally-sourced spices, processed and packaged in our French kitchens
We favour products with no artificial colours or preservatives
Origin and quality control
Deli products, grown and produced by small producer and small to medium sized companies on a human scale
A range inspired by the world of gastronomy regularly updated with new recipes