Aromatic Herbs
Our aromatic herbs are rich in essential oils. The majority are known for their health benefits (aromatherapy) as well as for their use in beauty and cooking. Highly aromatic, essential oils infuse your dishes with a natural touch. Our aromatic herbs in their beautiful shades of green are full of fresh flavours, fragrant and delicious.

We are always on the lookout for labelled and certified products: Our Herbes de Provence have the Label Rouge designation; our Thyme is protected by the "Thym de Provence" designation which is recognised as a Protected Geographical Indication (PGI). These indicators of quality guarantee you exceptional products and powerful flavours.

At Albert Ménès, we are particularly focused on supporting sustainable farming practices.


Used as they are, aromatic herbs can take your recipes to the next level and give a new dimension of flavour to your dishes:

Bay leaf: this herb, found in the Mediterranean basin, forms part of the bouquet garni used in many types of dishes. Our experts hand-pick the best and most attractive bay leaves. These whole leaves guarantee an unbeatable flavour;

Bouquets Garnis: presented in little fabric pouches, this herb blend is produced by hand in our kitchens.

Persaillotte: this blend made with garlic, parsley, shallots and salt is one of Albert Ménès' most legendary products;

Thyme: often used in cooking, it is the perfect seasoning for marinades, grilled meat and other recipes;

Chervil: this aromatic herb is an essential ingredient in French cookery. It has been selected for its lightly aniseed taste, which pairs perfectly with fish.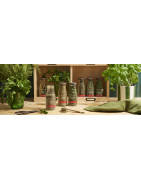 Naturally-sourced spices, processed and packaged in our French kitchens
We favour products with no artificial colours or preservatives
Origin and quality control
Deli products, grown and produced by small producer and small to medium sized companies on a human scale
A range inspired by the world of gastronomy regularly updated with new recipes