Premium Salts
Our Albert Ménès exceptional salts are like little jewels, available in a range of vivid colours and original flavours. We have come up with original mixes and tastefully blended recipes: Himalayan Pink Salt, truffle, celery and even Espelette pepper.

Perfect for seasoning grilled meats, fish, vegetables or even sauces, our mineral salts can be used in many different ways. We offer exclusive and delicious salt blends to tickle your palate. 
Himalayan Pink Salt, also called Pink Kashmir Salt or Pink Diamond Kashmir Salt is rich in mineral salts and trace elements. Used just like ordinary table salt, it adds a subtle, delicate flavour to your recipes. Both strong and crunchy in the mouth, it is a favourite among foodies. It's characteristic pale pink colour adds an elegant and refined touch to your table. It is a great replacement for fleur de sel when seasoning roasted meat, vegetables or fish.

Our spicy version, Pink Salt with Espelette Pepper, is a delicately flavoured blend offering a mild heat and fruity notes. This exceptional pepper has the AOP label (Protected Designation of Origin), testament to its impeccable quality. Originally from the Basque Country, it is selected and picked by our regional producers. This flavoured salt is perfect for seasoning grilled meat, vegetables or sauces.

Celery Salt is mainly used to flavour tomato or carrot-based sauces. Sprinkle a pinch of this salt on your eggs, and Albert Ménès guarantees you a delicious flavour.

These flavoured salts brought to you by the House of Albert Ménès are a guaranteed hit. Spice blends offering unexpected and delicious flavours that will delight your palate.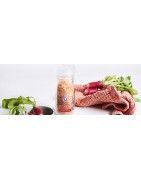 Naturally-sourced spices, processed and packaged in our French kitchens
We favour products with no artificial colours or preservatives
Origin and quality control
Deli products, grown and produced by small producer and small to medium sized companies on a human scale
A range inspired by the world of gastronomy regularly updated with new recipes